Hello there,
This isn't related to my usual content but it is a topic close to my heart. I know of 2 close people in my life who suffer and suffered from dementia. I thought of this topic as something unusual popped on my facebook feed earlier this week with a couple of my friends posting this particular status on their walls.
"Someone once said when you love someone with dementia you lose them more and more everyday. When they are diagnosed, when they go through different stages, when they go into care and when they die. ? This is called "Ambiguous Loss."
'Rapidly shrinking brain' is how doctors described it. I wouldn't wish Dementia on anyone. As the persons brain slowly dies, they change physically and eventually forget who their loved ones are. They can eventually become bedridden, unable to move and unable to eat or drink.
There will be people who will scroll by this message because dementia has not touched them. They may not know what it's like to have a loved one who has fought or is fighting a battle against Dementia.

To raise awareness of this cruel disease, I would appreciate it if my friends could put this on your page for today.
Hold your finger anywhere on the message to copy and paste to your Timeline.???
Thank you??
I am assuming it is because the month of June is Alzheimer's & Brain Awareness Month. Usually the color associated is purple and it is a time to recognize caregivers for their unconditional and unwavering support for Alzheimers patients.
Having seen this disease in my personal sphere, I assure you it is no laughing matter or a matter to be prejudiced about. A month is insufficient to recognize the efforts and time that every caregiver is showing to patients of dementia.
What is Dementia? How can one define it or describe it? It is best defined as the Alzheimer's Organisation suggests:
"Dementia is not a single disease; it's an overall term — like heart disease — that covers a wide range of specific medical conditions, including Alzheimer's disease."
There's a lot of medical information and of course guidance on how to best care for a patient, which I am NOT going to address here then a)this would be a medical blog and b) I am not qualified to do so.
I am unaware however, if there's a lot of information in layman terms or for non-medical folk to be aware of dementia or specifically Alzheimer's disease unless you have a patient who suffers from the above and you need to be guided then the medical fraternity guides you in wondrous ways.
My post shall address the perspective of the common man. One who is completely, utterly taken aback with knowing someone who suffers from the condition primarily of Alzheimer.
To live and adjust to the rapid personality changes that a person makes whilst suffering from the condition is something the loved ones often grapple with. Things are made harder explaining to outsiders how, why, when the changes happen.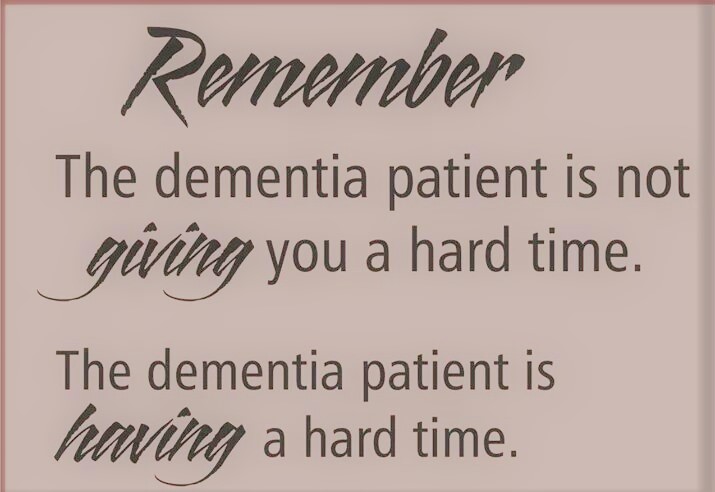 My grandmother underwent a rapid progression of this disease to the extent, she could not vocalize what she was thinking, she stopped talking in normal speech and would grunt or express herself in guttural sounds. She could not do any basic essential tasks at all.
Writing about it is hard enough, watching it even harder. To a teenage grandchild who revered her and who knew that she had brought up eight surviving wondrous children and whose children she'd guided as well, it came as a shock and a wake-up call that there were these things in the world too.
What also came to define this moment of my teenage was my viewing of my grandparents relationship. I was always abroad for most of my childhood and teenage was when I returned to India for higher studies, hence I had always heard vicarious accounts of their relationship from different sources but by the time I arrived to live with them there was a sea change in that relationship and it also partly defined my knowledge of spousal relationships.
The brick of our house, my grand mom brought down with this disease led to my grandfather standing up in such a way and what a wondrous way it was! He not only took charge of the house, the outside tasks but taking care of all her hygiene needs, her being fed, her being clothed and what nourishment he'd look after! Juices, blended meals all taken care of by him and fed by him to her. Of course he had help, the primary caregiver would need that much at least! However, it is not easy to look after a patient with Alzheimer. They talk back, refuse, fight! to do the most basic of things. It is a daily, minute to minute struggle in many ways which cannot be illustrated here. It is heartbreaking to watch and know and then they don't let strangers to do it as well. So the companion of many years, perseveres on, in all fortitude and grace.
I saw them both starkly fighting their own struggles and picking themselves each day. She fought bravely, he fought harder. If anyone of us can manage to achieve that relationship, we'd be blessed and tired all the same. As everyone sees the fruit on the tree, no one counted the number of sacrifices she made to get there, which is why he stood strong for her.
Again, I saw another relationship closely. This time it is my parents in law. The number of struggles my mother in law has faced with grace and fortitude I have seen and the numerous ones that I have not seen, I still pray for her strength each day. My father in law a man of wondrous strong character, reduced to a shell of himself in some ways and in some ways the person hidden comes forth to light. I was blessed to know him in the beginning of his journey and I thank Allah for that blessing.
Nothing in this life is permanent. I always used to know this but this disease brought home this fact for me. So when people say I am so sorry that so and so are going through this condition, I know how it feels and at times others know more than me. Empathy is a powerful feeling that unlocks the hearts of the ones who empathize and the ones who receive it.
Empathize today.
For nothing is certain tomorrow.
Thanks for listening,
Kind regards,
Sanaa